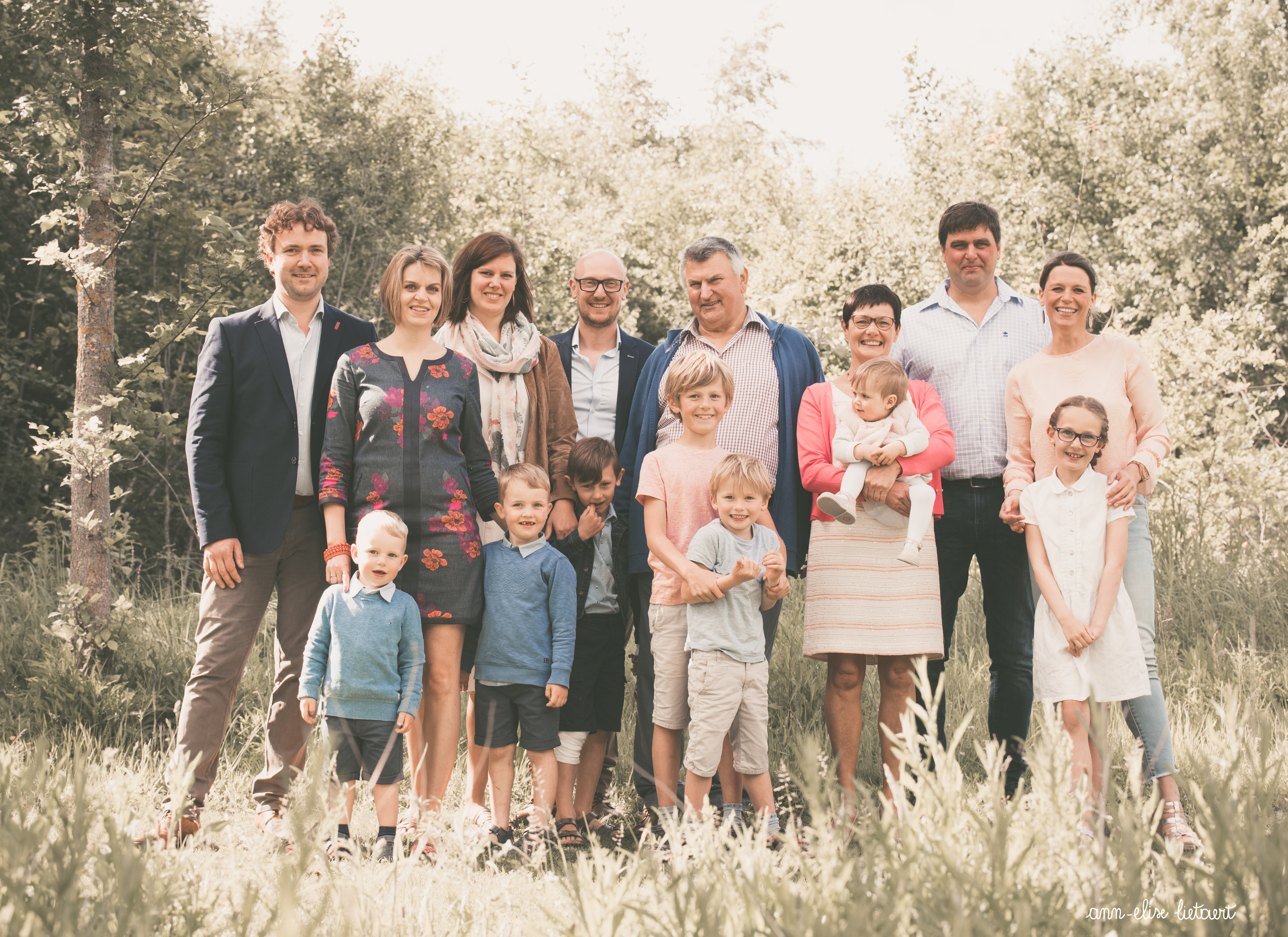 Mijn oudste zoon Rube, weet dat ik een reportage heb met de familie van één van zijn beste vrienden, Béric. Twee grote, lieve ogen kijken me op die zaterdagnamiddag heel warm aan en smeken me om alsjeblieft, alsjeblieft mee te mogen gaan.
Daar kan ik dus geen nee tegen zeggen.
En het gebeurt wel vaker dat mijn twee wildebrassen tijdens mijn fotoreportages door de bossen zwerven. Geschramd, vol modder én met walkie talkie.
Het is begin juni en een gure wind teistert het land waardoor ik even twijfel of we de reportage nu laten doorgaan op de afgesproken locatie. Ik vertrek vroeger om na te gaan of we de wind in de rug hebben of of ik eerder de wind van voor krijg :-).
Met ramptoeristenop'wind'ing denken we heel even dat er een grote boom is omgewaaid maar bij nader inzien bleek deze op vakkundige manier geveld te zijn (sinds ik het boek las van Peter Wohlleben, bloedt mijn hart bij alle bomen die vaak onterecht worden gekapt).
Met verse overtuiging vindt mijn Rube het alvast een ideale dag voor een reportage. Ik stuur een berichtje naar Maaike, de mama van Béric, om te laten weten dat het "haalbaar" is op deze locatie en laat weten dat ik gezelschap mee heb. Maaike is juf op de school van mijn zoontjes. Ze is zo heel stiekem de juf die ik als kind had gewild. Zo iemand die verhalen laat renderen, je meeneemt in zoveel boeiende werelden!*
Even later kunnen we van start gaan met de reportage.
En dan toch even tegenwind. Eén van de neefjes valt. Normaal ben ik degene die struikelt tijdens de reportages dus ik ben echt wel ervaringsdeskundige in het niet leuk vinden van valpartijen (ik denk dat ik gewoon mijn valpartijen wat meer body zou moeten geven door ze bijvoorbeeld af te werken met een koprol maar dit lukt gewoon niet met mijn fototoestel in mijn handen). Ah, ik heb te doen met deze lieve, fijne kerel.
Uiteindelijk worden alle valpartijen vergeten en wordt het een fijne reportage met fijne mensen met fijne streepjes zonlicht.
Dankjewel voor de fijne namiddag en voor het vertrouwen!
Veel liefs,
*: voor mij is het te laat, maar, wie weet, voor jullie kinderen misschien nog niet ;-). Op zoek naar een school, naar een wereld vol verhalen, waar kinderen meedeinen op het ritme van de seizoenen? www.koningsdale.be
Meer beeldmateriaal of een reportage boeken? www.ann-elise.be