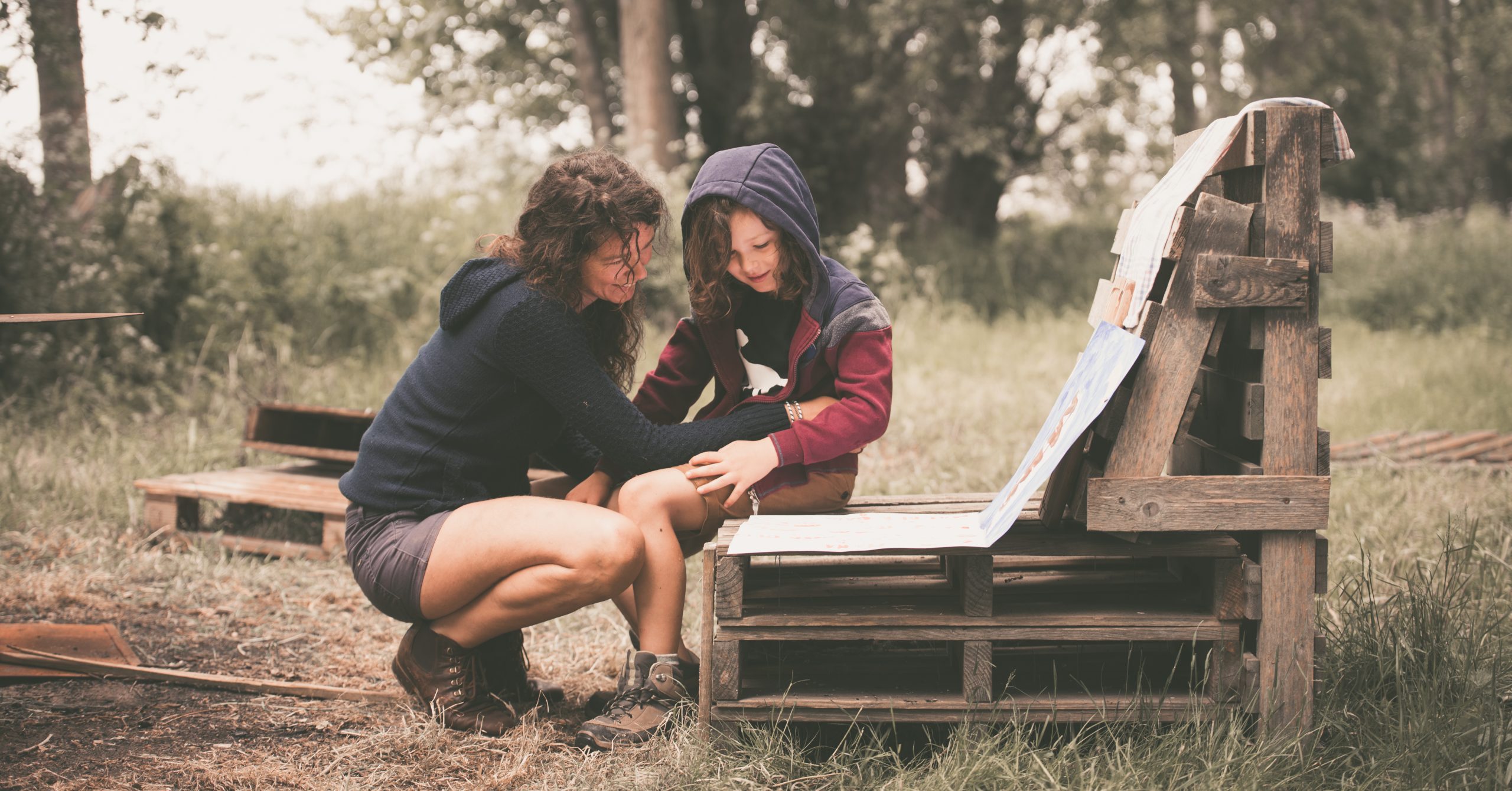 Mijn schoonbroer vroeg maandag, met de vlotheid van een laatste glas, of dat het wel goed met me gaat. Ik had de laatste dagen nogal vaak mijn politieke antipathieën omtrent een bepaald beleid laten gelden. Teveel kwaadheid vertroebelt, zorgt dat we de mooie dingen niet meer zien.
Maar soms hebben dingen tijd nodig. Soms moet je dingen even laten liggen en laten beschimmelen. Een beetje zoals het alcohol laten worden van druiven. In de kelder van mezelf ligt dat wild, vrolijk zaadje. Het is een beetje zoals wijn die door alle dieptes van zijn rood moet gaan*, dat je even door alle emoties heen moet om het mooie in het rond te zien cirkelen** ;-).
Mijn één-vrouw-szaak bestaat vandaag vijf jaar. Niet iedereen haalt vijf jaar. Vijf jaar is écht wel een feestje waard :-). Tien jaar een klein festivalleke. Dus, mezelf, moest niemand je vandaag feliciteren: "Zo van harte gefeliciteerd! Je bent goed bezig! Daar gaan we samen iets op drinken!".
Terug in de tijd was ik het type die de dag van haar ontslag een jaar vooraf in haar agenda vastprikte. Omdat er op dat moment honderden redenen waren om te gaan. En één om te blijven. Angst. Voor wat zou komen of net niet ging komen. Op dat moment was ik ook degene die na 2 maanden zonder daadwerkelijk plan terug een jaar parttime werkte om dezelfde redenen. Angst. Gelukkig ook diegene die uiteindelijk besloot dat het welletjes was en dat alles naar vrijheid rook.
In de voorbije vijf jaar heb ik veel van jullie vergezeld, soms vermaakt, misschien verveeld maar vooral verbeeld. Bij mij geen bling bling… Geen smash cake, geen pasfoto's, geen eindeloze accessoires… Wel als het kan echtheid en oprechtheid en hier en daar een toefje woord. Ik ben jullie zo oprecht dankbaar voor de afgelopen vijf jaar! Dankzij jullie is wat denkbaar was in mijn hoofd een realiteit geworden!
Ik heb mezelf de voorbije vijf jaar ook wel vaak aan de deur gezet. Wegens te lastig, te onrustig, te eigenwijs, te min, te veel gespleten haarpuntjes, te veel lompheid, te veel offroad rijden, te veel onduidelijkheid én te veel overenthousiast*. Gelukkig vraagt Jona steeds opnieuw of ik terug naar binnenkom. Al zijn er grenzen aan hoe sexy hij me vindt als ik naast de vuilniszakken zit te wachten om opgehaald te worden.

Gelukkig voel ik veel vaker een diepe tevredenheid over alles wat is. Voel ik heel veel liefde. Dankbaarheid. Blijheid. Blaak ik zo af en toe van zelfvertrouwen. Is er vrolijkheid. Sommige dagen ben ik stiekem wilder dan mijn haar. Is alles overfantastisch en superlatief prinsheerlijk.
Facebook zegt dat mijn bedrijfsprofiel nog niet volledig is. Dat klopt!
Mijn doelen voor de komende vijf jaar:
Minder koffie.
Mezelf accepteren (uiteraard met de hoop dat het ooit wel beter wordt).
Héél veel kampvuren, willy-reisjes, festivals en meer van dat all the way. Hoor ik daar een cynisch stemmetje? Hoor ik je denken: "Dat heeft niets met werk te maken?". Toch wel hoor, je zou eens moeten zien hoe ik straal na zo'n Willy-reisje. Dat straalt nog wekenlang door in de beelden die ik maak.
We gaan voor een echte gamechanger, het is mijn ambitie om mezelf heruit te vinden op zakelijk vlak. Ik wil een melange worden van woord en beeld en op één of andere manier meer verbinden.
Minder slotzinnen met puntjes gebruiken…
Ik wil een stapje verder schuifelen met mijn kinderboek die al jaren stof ligt te vatten (mijn driedelige autobiografische bestseller zal er daarna wel vanzelf uitrollen ;-)).
Op dus naar over vijf jaar… Naar een tijdperk met nieuwe herinneringen met vonkende neuronen!

You ain't seen nothing yet… Mijn beste moet nog komen :-).
Ik-geloof-vandaag-in-mijzelf-groet,

*: die heb ik van Herman de Coninck

**: aan de toehoorders van een kievit, moesten jullie dit lezen, speciaal voor jullie, dat ene zinnetje 😉
***: Bij gebrek aan eigen leuke projecten kunnen ondertussen menig mensen – help, zucht en sorry – al bevestigen dat mijn overenthousiasme soms naar obsessie kan neigen voor hun projecten. Heel specifiek ook mijn uitgebreide excuses aan diegene met het t-shirtje in een pastelkleurtje tegen wie ik laatst heb gezegd dat verkleinwoordjes niet echt matchen met zijn stoer no no nonsense projectje en met wie ik het even niet meer mag hebben over verkleinwoordjes. Ik bedoelde het opbouwend en écht niet persoonlijk.
****: Wat lief! Zo op mijn vijfjarige verjaardag mijn blog tot op het einde lezen! Ik geef vandaag één mini-reportage twv €97 weg (20 minuten reportagetijd, max 2 personen, 3 digitale beelden).
Hoe? Reageer op deze blog, schrijf een zon opzwepend lied, dans mijn mailbox binnen,… Mijn eigenste jury kiest er dinsdag één naam uit.