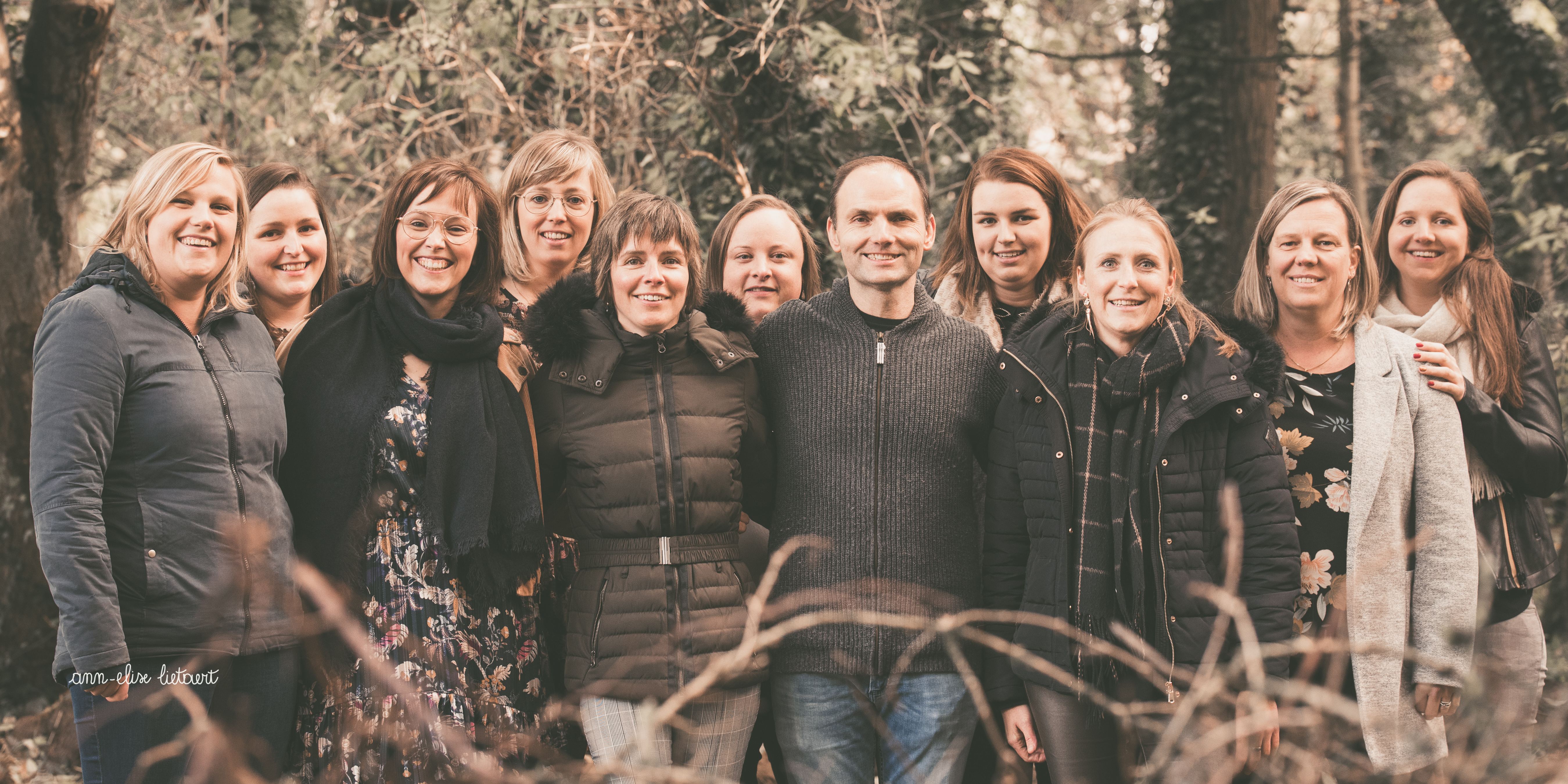 Deze reportage van thuisverpleging Vieren deed ik in november. Ik ontmoette Sarah en haar fantastisch team.
Net als Sarah zijn er nog heel wat van mijn klanten- en vriendenkring die werken in de zorg. Mensen in de thuiszorg, in ziekenhuizen, woonzorgcentra, maar ook opvoeders in de gehandicapten- of bijzondere jeugdzorg.
Ook naar mijn klanten toe vraag ik bepaalde toegevingen. Reportages moeten verplaats worden. Ik kan hen geen duidelijkheid geven. En het valt me op dat het net mensen uit de zorg zijn, die lieve en begrijpende mailtjes terug sturen. Als ik hen vraag hoe het met hen gaat, wel, dan krijg ik steevast terug: "Ca va. Soms lastig. Maar het gaat. Met vallen en opstaan. En onderweg ook nog een koprol. En… dat het ook wel gewoon moet gaan."
Hoeveel Jezussen en mega Mindy's in burger telt onze samenleving? Ze brengen een verhaal van weerbaarheid, van teamspirit, van zorg dragen voor. Ze hebben geen app bezieling of doorzetting nodig, ze doen het gewoon.

Stiekem voel ik me schuldig dat ik 'gewoon' thuis zit, terwijl zij elke dag opnieuw het beste van zichzelf geven.
Zoveel toewijding… En we dekken de lading niet met applaus en een witte vlag. Ook niet met een eenmalige bonus van 1450 euro. Kunnen we alsjeblieft ook na corona zorg dragen voor onze zorgverleners?
Denken we daar even aan bij de volgende verkiezingen? Dat na alle besparingen met steeds minder middelen, steeds minder personeel en minder tijd… dit ook even wordt recht gezet? Ik stond enkele jaren terug in de zorg, en als ik de verhalen van mijn vroegere collega's hoor, dan wordt het alleen maar erger… Zo kan het niet verder… De werkdruk, het tekort aan personeel, aan middelen, …
Lieve Sarah en collega's,
Lieve ex-collega's,
Lieve dichte en verre verpleegkundige buren en opvoeders,
Lieve zorgvrienden,
Lieve zorgdragers,

Een grote dankjewel!
Lieve iedereen anders, (lieve?*) politiekers,
Denken we aub aan hen, bij de volgende verkiezingen?
Dank je,
*: sorry, bij sommigen heb ik echt wel mijn twijfels