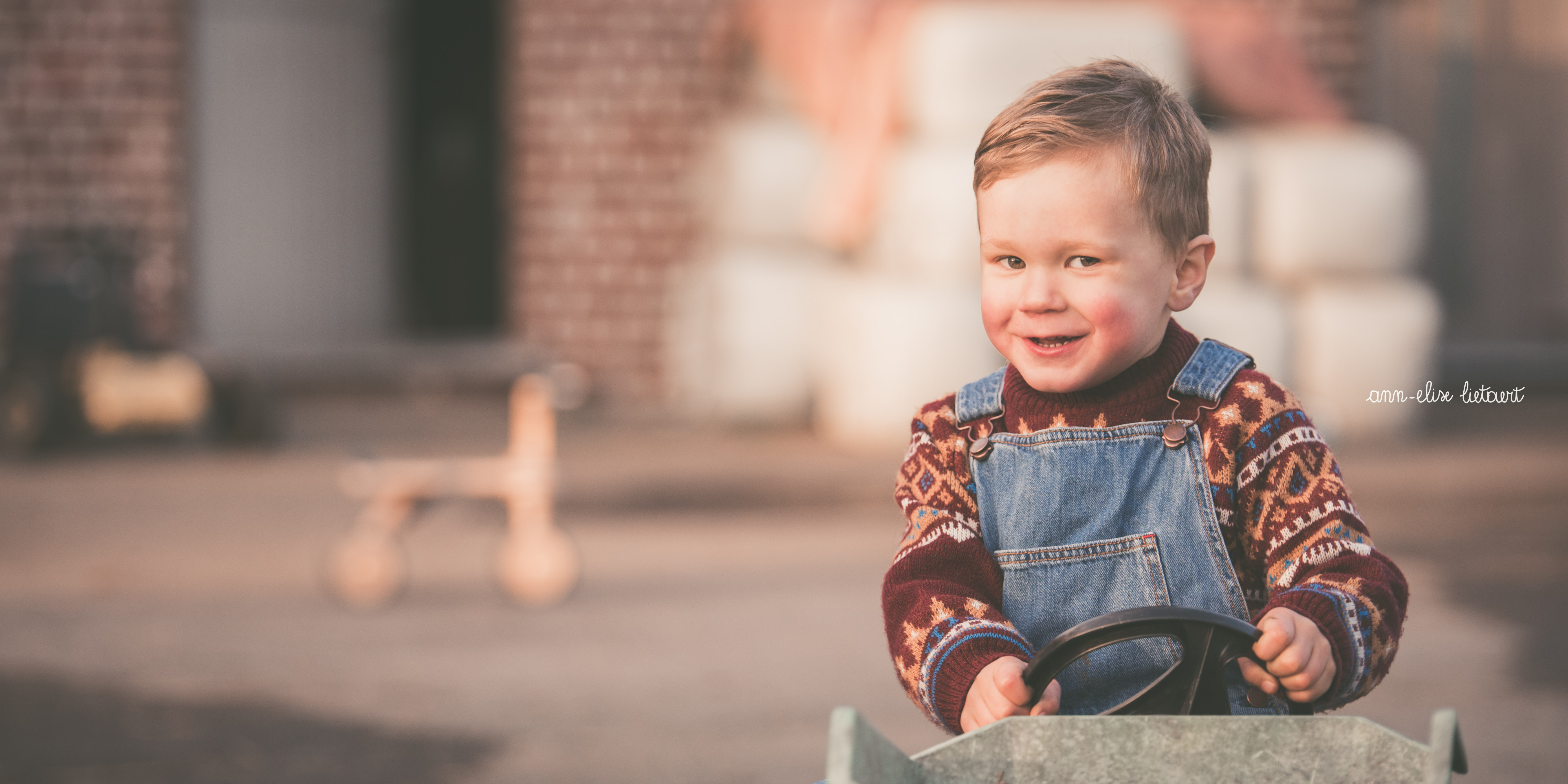 Een "niet-werk-reportage". Op een zondagnamiddag in januari. Een soort sunday life-shoot van Isaak, het zoontje van mijn jongste schoonzus op de boerderij van mijn schoonfamilie.

Ze worden gemist. De zondagen op de boerderij. Voor onze kinderen is het een waar paradijs. Ze krijgen er de vrijheid om hun eigen nieuwsgierigheid te volgen. Om te zoeken en te ontdekken. Te proberen en te creëeren. Terwijl wij samen koffie drinken en hen af en toe gadeslaan.
Daar op de boerderij worden onze kinderen terug jagers en verzamelaars. De mogelijkheden op de boerderij zijn er zo eindeloos dat ze geen tijd hebben om ruzie te maken. Waar wij rommel in zien, zien zij mogelijkheden.
Toen ik fulltime werkte en mijn werk niet graag meer deed, liet iemand me in de academie (dankjewel Katrien!) me inzien dat ik iets heel kostbaars aan het verliezen was. Onbevangenheid en speelsheid.

Ik heb het geluk dat mijn kinderen (ja, ik weet het, hier ben ik weer, maar waar het hart van vol is… 😉 ) in een prinsheerlijke school zitten! Niet alles wordt er voorgekookt. Ze ontwikkelen er nieuwsgierigheid en verbeeldingskracht.
Onlangs terug het zoveelste gesprek over de reden waarom mijn jongens in de Steinerschool zitten. Neen, ze komen niet achter (ik vind het trouwens een heel fout woord om in welke context dan ook te gebruiken als het over kinderen gaat). Neen, ze onderwijzen er geen creativiteit. Ze laten het openbloeien.
Het stemt me triest als ik bepaalde nota's of meningen lees over het onderwijs. Het lijkt of dat het hoogste doel in deze maatschappij is om zo veel mogelijk kennis mee te geven zodat ze later een goede baan vinden in de kenniseconomie. Maar onze wereld heeft binnenkort nood aan durvers en dromers. Aan mensen die verbinden, creatief kunnen denken. Ik wil niet dat er ooit een moment komt waarin mijn kind het verleert om echt te spelen. Hoe oud ze ook zijn.
De vraag is niet kunnen onze kinderen deze vrijheid aan? De vraag is durven wij hun die vrijheid geven?
Ik kijk terug uit naar die zondagen waar ik samen met mijn schoonzussen (of zus :-)) door het raam sta te kijken. Zo'n moment waarop we samen even twijfelen als we hen zien klauteren. En samen besluiten: ze zijn best wel voorzichtig en zorgen voor elkaar. Laten we hen die vrijheid gunnen.
Ook Madicken, de mama van Isaak, is iemand die af en toe buiten de lijntjes kleurt. Iemand die ik als schoonzus enorm apprecieer. Ook iemand die, als mijn innerlijk kompas het even niet meer weet, helpt richting geven.

En Isaak? Deze lieve kleine kerel, heeft zijn naam duidelijk niet gestolen. "Hij die lacht" gaat ongelooflijk vrolijk door het leven. Een reportage van een prachtkind op een prachtplek!
Lieve groet,