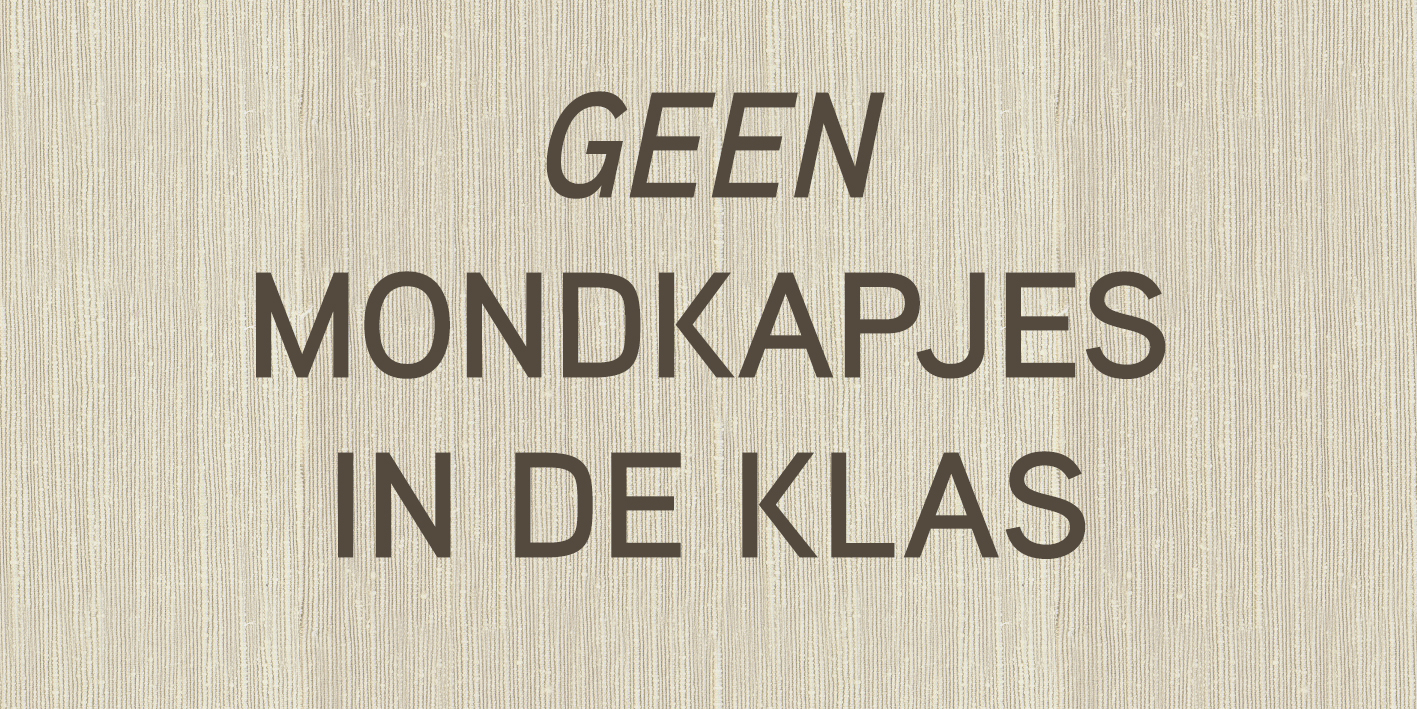 Niet alleen corona is een ongevraagde gast, maar ook de angstspookjes die gecreëerd worden en het ontbreken van transparantie. Ik ben bang dat er onder sommige maskers een grijns schuil gaat die nog lang niet geweken is.
Ik krijg op mijn dak omdat ik tijdens een workshop na het eten niet meteen mijn mondkapje opnieuw aandoe. Want zo zijn de maatregelen, zo zijn de procedures. Ik ben iemand die rekening houdt met zijn omgeving, zich aanpast en dus netjes het mondkapje terug opzet. Vanbinnen borrelt het. Ik loop al uren rond in Gentse buitenlucht met het kapje, zit buiten op anderhalve meter van mijn metgezellen en wil gewoon – heel even – zuurstof inademen. Mag het? De vrouw die de opmerking gaf, kijkt me met vlammende ogen aan. In haar ogen sta ik al terecht als corona-rebel omdat ik – volgens haar – mijn verantwoordelijkheid niet neem. Er volgt van haar kant een monoloog over de zonderkapjes, de reizende zondaars en het gebrek aan verantwoordelijkheid opnemen in onze maatschappij.
In mijn hoofd vormen zich gezegde waarheden die niet op de radio worden verkondigd. Zoals het verhaal van de 100 besmettingen met slechts 1 zieke in een nabij gelegen fabriek. Heb ik het recht om onrust te stoken en het weten ongevraagd aan te snijden? Om mijn mening te verkondigen? Wanneer ik het doe blijven sommige mensen luisteren, ontaardt er met regelmaat een gesprek maar soms ontstaan er heftige discussies of erger, gaan mensen er verschikt en haastig vandoor. Ik hoor mijn woorden zwijgen in alle talen. Van mijn kant wordt het een binnensmonds met stof gedempt monoloogje.
Wat scheelt er toch met ons? Waarom laten we onze stem niet massaal horen? Ik heb best wel begrip als ik op drukke plaatsen een mondmasker moet dragen maar ik stik in onbegrip als ik denk aan onze middelbare jeugd. Dit kan anders worden aangepakt. Bijna niemand vindt het ok dat onze middelbare schoolkinderen met een mondkapje les moeten volgen. Of dat ze ook aan hun bank het onding niet even mogen afnemen? En toch weerklinkt er geen geschreeuw of geroep. Wat is er mis met ons als we al niet voor onze jeugd opkomen?
Laat alsjeblieft je stem weerklinken! Eén mail naar de directie van een school, naar het ministerie van onderwijs, naar de gezinsbond en naar alle mogelijke instanties helpen niet. Maar wat als we onze krachten bundelen? Wat als we massaal mails versturen? Laat de schooldirectie het klankbord worden. Geef duidelijke signalen die ze niet langer kunnen negeren. Stuur mails. Massaal! Onderschat de kracht van het woord en van samen niet! Hou jullie mails lief en zacht maar streef naar de idealen die we voor onze kinderen voor ogen hebben! Dit is een probleem van het echte leven en één waar we echt wel kunnen toe bijdragen! Laat je leiden door het werkelijke beslissingsproces! Typ die mails! Voel je moreel verplicht om jouw mening de wereld en het postvak in van heel wat mensen in te sturen. Laten we onze beleidsmakers gigantisch irriteren met onze wilskracht en doorzetting! Tot ze hun computer in een hoekje van de kamer willen schoppen. Het maakt niet uit welk hoekje en in welke kamer. Zolang ze maar zuchtend inzien: "neen, een mondmasker in de klas, al zittend, dat hoeft helemaal niet.".
Dankbare groet,
PS: O ja, moest ik in de tussentijd de lotto winnen, dan brief ik jullie wel even zodat jullie mogen ophouden met mails sturen, wie weet koop ik gewoon even een minister om.
PSS:
Mogelijke mail adressen:
directie van middelbare scholen
lokale besturen
…