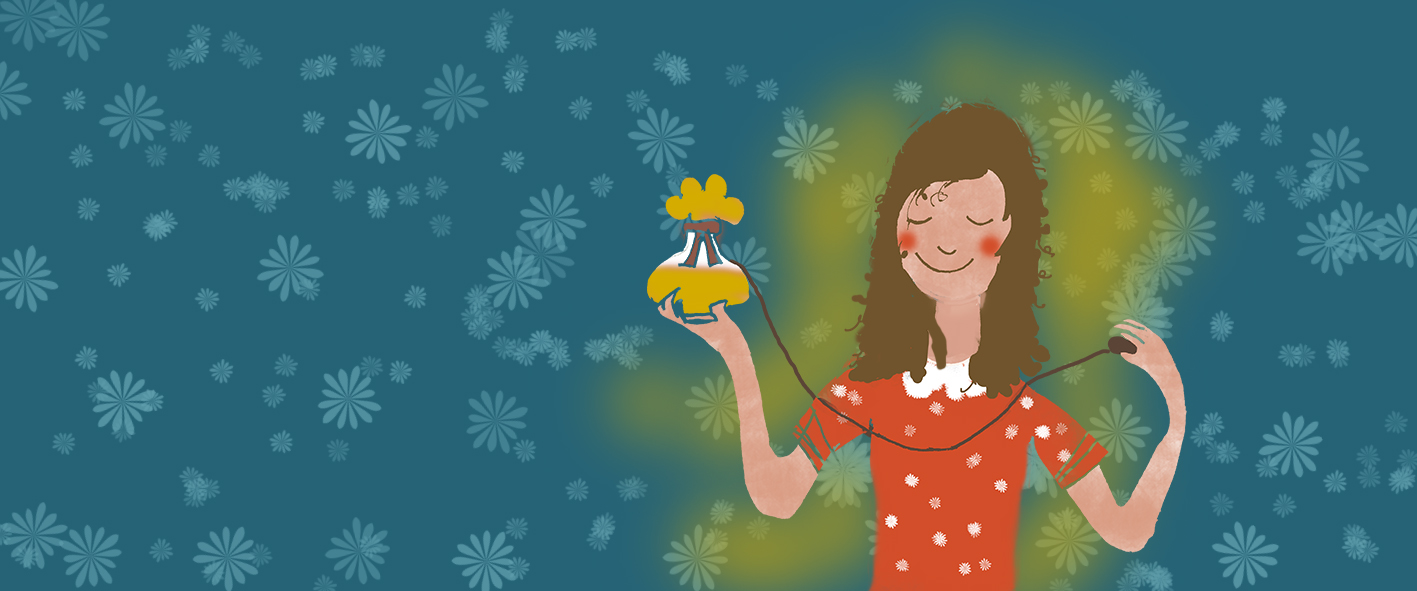 Ik doe nogal breekbaar. Ik laat gemiddeld één keer per week iets vallen. Soms kan het ook meer zijn. De balans van deze week: 2 glazen, 1 flesje etherische olie, 1 tas en mijn parfum. Dus: of ik ben onhandig en lomp of ik ben, spreekwoordgewijs, geboren voor het geluk*.
Etherische olie en parfum zijn pijnlijk. Omdat parfum best wel veel geld kost, besluit ik het een beetje op te deppen met kledingstukken. Een mens moet zuinig zijn.
Ik ontmoet heel wat klanten die dag die komen voor afhaling of een bespreking. Niemand zegt er wat van, wellicht een beetje zoals met een stinkende adem, je praat uiteraard niet over een overdosis parfum. Wel vluchten ze vrij snel mijn woonwagentje uit en kabbelt het gesprek buiten wel nog even verder. Corona en veiligheidsmaatregelen van hun kant… (Dacht ik).
In de supermarkt loop ik in de voormiddag iemand tegen het lijf voor wie ik een illustratieproject deed. Aan de kassa vraagt hij of ik voor wil. Typisch mijn lompe zelf zijnde, val ik nog even over mijn schoenveter en neem het plaatsje voor hem in aan de kassa. Vriendelijke mens.
Pas later wanneer naar de avond toe welgeteld enkele mensen een opmerking maken over mijn weldadige geur (inclusief man, die maar liefst op 6 meter afstand tegen mijn schoonbroer staat te praten net voor ik vertrek – en zich luidop afvraagt waarom ik in godsnaam zoveel parfum aan doe om naar een vergadering te gaan), heb ik het gevoel dat het toch een overdosis aan Si Lolita is. Ik begin te kampen met het idee dat de vriendelijke man in de supermarkt me daarom voor liet. Gisteren even bevraagd aan vriendin die bij hem werkt of ze even discreet wil aftoetsen. Of hij op deze manier misschien zijn probleem met mij te lijf wilde gaan? Want mij laten voorgaan betekent immers minder tijd met een overdosis "Si lolita". Want het gekke is dat de mevrouw die voor mij was aan de andere kassa ook al had gevraagd of ik voor wou (ik dacht toen dat dit was omdat mijn zoontje Iben een vrij zware doos droeg en het leek alsof ik deze niet wou dragen, maar dat was niet zo, want Iben wou gewoon tonen hoe sterk hij was).
Alleen tegen mijn man biecht ik in genuanceerde versie de ware toedracht toe van mijn overdosis.
Maar… Ik zit in met mijn klanten die mijn woonwagen betraden op woensdag en nu anti-reclame maken. Ik hoor het hen al zeggen: "Ze neemt mooie foto's maar doe geen bijbestellingen. Je wordt bedwelmd bij afhaling". Dat wordt wellicht het verhaal van mijn verval. Dus ik fluister mezelf toe… Niet schamen maar gewoonlijk eerlijk communiceren. Anders wordt het alleen maar moeilijker. 
Subtiel geurende groet,
*Schrappen wat niet past