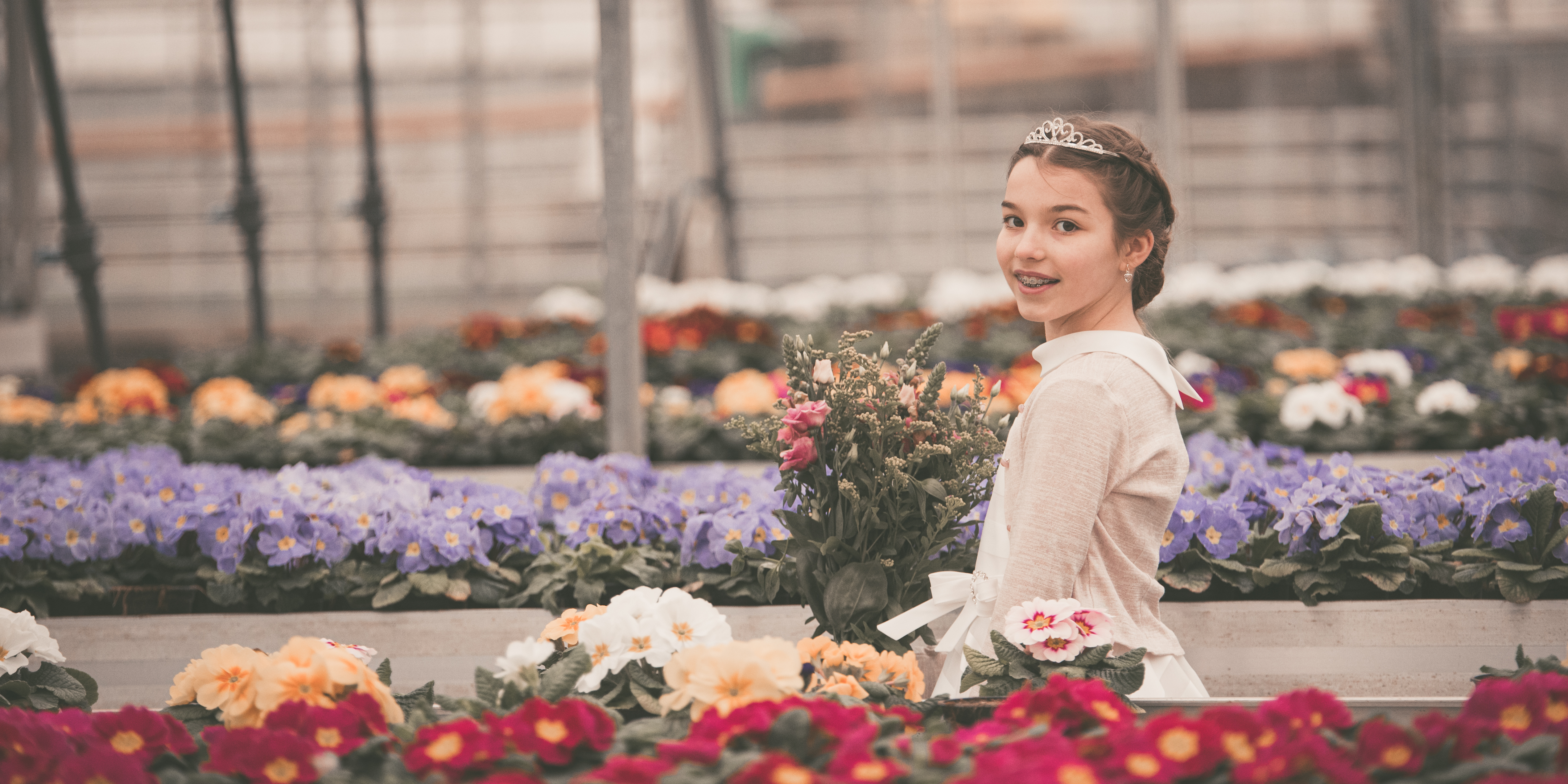 Wie me een piepklein beetje kent weet dat ik kamp met een plantenverslaving. Ik kom dan ook met regelmaat over de vloer bij lokale planten- en bloemenwinkels. Ik ben gek op bladeren. Planten. Boeken. Eén van de mooiste dingen op deze wereld is voor mij bladeren. Waarmee ik bedoel: planten of woorden zachtjes strelen. Het allerliefst blader ik door kruiden. Dat vind ik het zalige aan tijden waarin je niet overal je handen moet wassen. Je vingers ruiken zoveel langer dan je neus. Je kunt met een zweem van heimwee nagenieten van een chocoladegerechtje, de uitgeperste citroen of de basilicumblaadjes in je slaatje.
Het is krokusvakantie. Ijskoud. Alsof de lucht bestaat uit glasscherven. Het regent dat het giet.
Een sfeer van harmonie en gelukzaligheid valt over me heen wanneer ik terecht kan bij Bloemencentrum Poelkapelle voor een binnenreportage. Ik voel de noodzaak om tijdens de reportage af en toe even mezelf te zijn, niet gehinderd door de teugels van plicht wanneer ik in het voorbij gaan heel zachtjes en helend de plantjes streel.
Voor de lens heb ik een prinsheerlijk gezin! Carlijn heeft glinsterende ogen, lange benen en een ongelooflijke gulle lach. Ze weet nog niet wat ze later worden wil, bij voorkeur wel geen vuilnisman, vertrouwt ze me toe.
De mildheid van natuurlijk licht die de serres binnenvalt geven de foto's iets zacht.
Na de reportage huppel ik de wijde wereld in. Wat een fijn gezin! Wat een fijne reportage! En wat een fijne ijskoude regen! En wat fijn dat de reportage niet buiten doorging!
Hartelijk dank voor het vertrouwen,
Lieve Carlijn, ondertussen was het hoogstwaarschijnelijk eindelijk, eindelijk, na al die tijd een beetje feest! Geniet van elke mooie, wonderlijke dag!
Liefs,
ps: de communieperiodes voor volgend jaar worden zachtjes ingevuld. Wens je ook een reportage? Boeken kan via https://www.ann-elise.be/fotografie/communie%20lentefeest-2.html