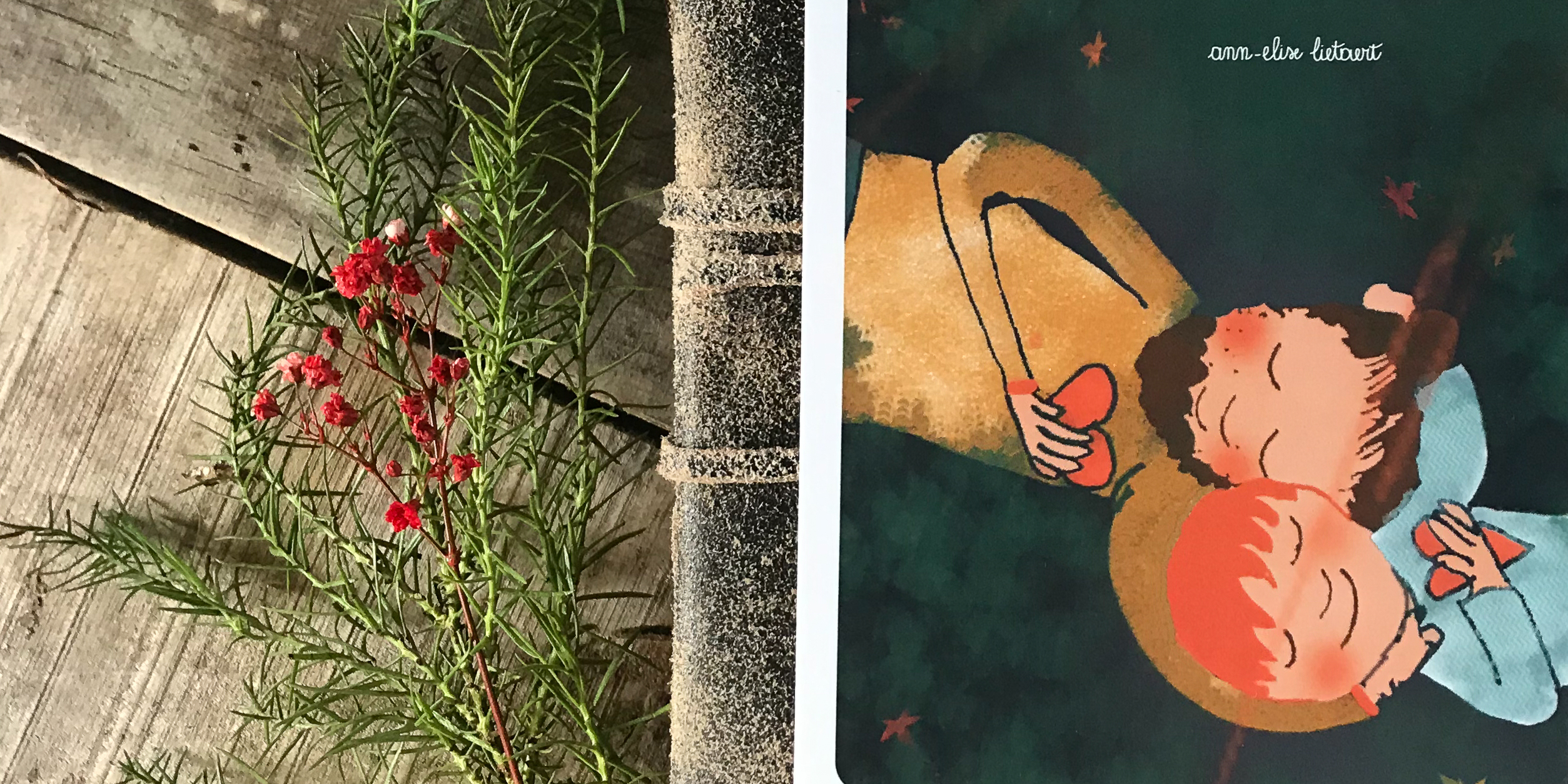 Een kartje troost
Ooit maakte ik troostkaartjes voor kinderen. Want heel vaak leidde mijn speurtocht naar het ideale troostkaartje tot niets. Toen bijvoorbeeld de hond van onze buren stierf, toen de oma van een vriendje van mijn zoontje stierf, toen de lievelingstante van het dochtertje van mijn vriendin overleed, toen er een kind langdurig ziek was, toen er in een gezin één van de ouders lijflijk of emotioneel afwezig waren (door een scheiding, door psychische problemen of door de ziekte van een broertje of een zusje), toen een kind verhuisde, …
Een kartje. Een kwartiertje de tijd. Om even te luisteren. Of om een kaartje te schrijven. Een kaartje om te laten weten dat je er bent. Dat je als mama, oma, oom, buur, juf, mama van een vriendje, … een huis hebt met een deur die altijd open staat.
9 euro voor 4 kaartjes I €2,30/kaartje
Naast de kaartjes zijn er ook troostzakdoeken (ecologisch gedrukt op biokatoen, de stof werd ambachtelijk verzakdoekt door atelier pruts) verkrijgbaar. Een attentie met de boodschap dat jij er voor dat bepaald kind bent en dat er ruimte is voor zijn verdriet.
€12,50/zakdoek
VERLIES IN TIJDEN VAN CORONA. OVER RUIMTE VOOR VERDRIET EN EEN PLEK VOOR HERINNERINGEN.
In corona is het ook voor kinderen moeilijker wanneer ze iemand van dichtbij verliezen. Door de maatregelen heen is er minder ruimte om te rouwen, heb je minderen mensen om je heen. We hadden zelf ook enkele begrafenissen en het voelt zo onwennig om op anderhalve meter te staan van degene die je het liefst gewoon wil omhelzen.
Van daaruit kwam het idee om een doosje te maken waarin herinneringen bewaard kunnen worden. Het kind kan er zelf herinneringen op neerpennen maar het kan ook aangevuld worden met herinneringen van andere mensen door bijvoorbeeld het doosje bij de laatste groet aan de overledene te plaatsen. Een manier om wie er niet meer is los te laten en toch te laten terugkomen. Een manier om al die verschillende ikken die de overleden persoon was, in te blikken tot herinneringen.
Bij het overlijden van een oma van een kind kun je jouw herinnering aan die oma neerpennen. Of kun je vertellen wat ze zo vaak over haar kleinkind zei, over hoe trots ze was op bepaalde dingen. Op deze manier kunnen kinderen zich later ook een completer beeld vormen.


Schatkistje vol herinneringen met 31 kaarten- €65.

De kaartjes zijn ook afzonderlijk te verkrijgen (€2,80) of als pakket van 10 kaartjes (€25).
Kaartjes of zakdoeken kopen kan in mijn woonwagentje. Langskomen kan op afspraak. Binnnenkort zijn ze ook te koop in mijn webshop. Na corona zit een potje koffie of een knuffel ook weer in mijn basispakket bij afhaling.
DE WAARDE VAN HERINNERINGEN
Zelf maakte ik voor mijn kinderen een herinneringsboek van opa Theo. En hoewel mijn twee zoontjes hem nooit gekend hebben zit het beeld van wie en hoe hij was diep in hun hele zijn geprent. De herinneringen die we met hen delen liggen als een warm deken om hen heen, geven hen een laagje extra identiteit.
Ook thuis verzamelen we al enkele jaren onze mooiste herinneringen en onze toekomstdromen. Wat een ongelooflijk mooi of leuk moment was krijgt een plaatje in ons memoriekistje. Zo delen we ook onze leuke gebeurtenissen met elkaar.
Enkele keren per jaar denken we ook samen na over wat we ooit nog zouden willen doen. Ook toekomstdromen worden geïnventariseerd. Met nieuwjaar overlopen we de dromen en heel vaak is het fijn te zien hoe onze zucht naar verandering hierboven ergens is gehoord.
Herinneringen, dromen, … Vertellen zo veel over wie we zijn. Door het boek van opa Theo en ook ons eigenste kistje winnen ze al enkele jaren terrein. Soms stuiten we op een woord of op een zin waarbij we heel even diep moeten nadenken over welke herinnering het nu ook al weer ging en dan is het zo wonderschoon als je die bepaalde herinnering terug kan induiken.
Ons eigen kistje is een mikmak van kleine lapjes en snipjes papier. Daar naast ben ik voor elk van de jongens ook een kistje begonnen met mijn troostkaartjes voor hen in de toekomst. Voor wanneer ze het even moeilijk hebben. Met herinneringen, wensdromen, … Speciaal van mij voor hen… Voor ooit als ik er zelf niet meer ben.
Veel liefs,
ps: kinderen moeten ruimte krijgen voor hun verlies maar komen ook maar aan verwerking toe wanneer ouders goed voor zichzelf zorgen. Enkele weken terug leerde ik – wat een fijn toeval – Tine kennen. Een lief, krachtig, warm persoon die mensen helpt bij het (h)erkennen van pijn en verdriet . https://www.facebook.com/Praktijk-voor-rouw-en-verliesbegeleiding-106272614316904/
pss: op zoek naar een volwassen versie van troostkaartjes? Neem zeker een kijkje bij http://www.studiotroost.be. Ook Siska, één van de bezielers van studio troost leerde ik onlangs kennen. Iemand met een wondermooie ambitie, iemand die met een zachte blik naar de wereld kijkt.
psss: Op weg naar de toekomst lijk ik – ondanks mijn richtingloosheid – best wel goed te kunnen navigeren. Zo dankbaar dat Tine en Siska op mijn pad kwamen! Twee krachtige mensen die dat wat ze in hun hart meedragen, gebruiken om de wereld zachter en begrijpelijker te maken bij verlies.