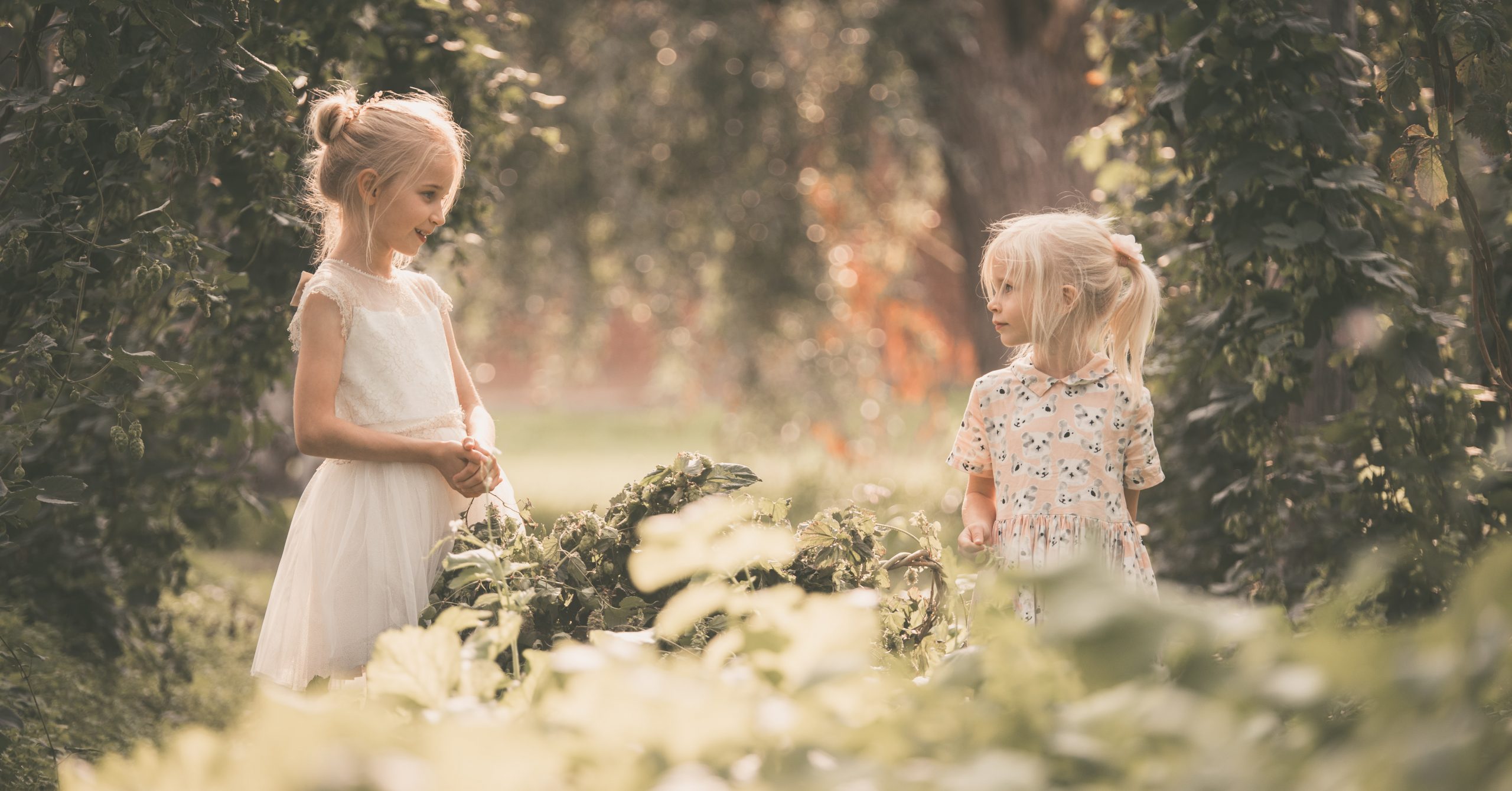 blog / communie / kinderen
Foto's als een tijdreizende expositie. Over wildpluk, herinneringen en de communiefoto's van Juliette.
communiefoto, spontane foto, mooie communiefoto, gezinsfoto, fotograaf, gezinsportret, kindportret, communieportret, lentefeest, reportage,shoot
Ik had een prinsheerlijke reportage met mijn nichtje en haar gezin voor de communie van haar oudste dochtertje Juliette.

De reportage ging door in de hop (best wel uitzonderlijk voor een communiereportage :-)). Ik volg de jaaropleiding wildpluk. Ik kon niet anders dan mijn enthousiasme delen over al het natuurschoon die ik onder de hopperanken aantrof. Heerlijk vond ik het om geurend naar hop onder een ondergaande septemberzon naar huis te rijden met Willy Wagentje.

Na de reportage kreeg ik een mailtje van Eline:
"We waren op de shoot nog bezig over geuren : ik dacht deze week nog aan jou, telkens ik oregano in de tuin of keuken tegenkom, denk ik aan onze brouwsels/theetjes in jullie tuinhuisje tijdens onze speelpartijtjes. Leuk dat een geur zo'n herinnering kan opwekken". 
Het was iets wat ik zelf vergeten was. Maar we waren samen goed in het brouwen van drankjes met kleuren die nog nooit eerder op deze aardbol werden vertoond. Lila-bruin-kasteelgroen. Okergeel-perenblauwzeegroen. Lichtgrijsbruin-gebroken wit en prachtig nevelgroen.
In mijn kindertijd gingen mijn voeten steeds vol aarde, mijn haren vol blaadjes en waren mijn zakken steeds gevuld met zaadjes en blaadjes waar ik sapjes mee kon maken.
Het zijn dingen die gebleven zijn. Wie me goed kent weet dat ik nog altijd sapjes maak (het is er alleen iets makkelijker op geworden, ik heb nu namelijk een sapcentrifuge :-)). Met de jaren zijn mijn sapjes zelfs spectaculairder geworden. Appelberenklauwzaadsap of distelsap met kleine pimpernel zijn bij ons wel vaker de suggestie van het huis.
Sinds ik zelfstandig ben geworden is ook de drang om alles te proeven, te beleven en te zien groter geworden. Alsof ik het kind in mezelf heb terug gevonden.
Mijn man bekende onlangs dat hij mij er van verdenkt een half "heks"genenpalet te hebben. Ik praat tegen mijn planten, voorzie manlief van een divers aanbod kruiden voor alle mogelijke kwaaltjes en haal na volle maan mijn maanwateroogst naar binnen. Uiteraard is mijn man ook diegene die beaamt dat ik voor de rest wel normaal ben ;-).
De reportage met Eline en haar gezin was fijn om te mogen doen. We zien elkaar niet meer vaak maar toch hing er iets vertrouwds in de lucht. Het was fijn om, en route de parcours, hun gezin te mogen verbeelden.
Bijdragen aan hun herinneringen terwijl de mijne werden opgefrist. Het voelde een beetje alsof ook een deel van mijn herinneringen werden samengevat in de beelden. Want stiekem zie ik mijn nicht nog altijd als mijn nichtje. Zie ik in haar kindjes zoveel terug van het meisje dat ze zelf ooit was. Zo zijn foto's stiekem een beetje een tijdsreizende expositie.
Dankjewel om deel uit te maken van mijn familie 🙂
Dankjewel voor de fijne avond,
Lieve groet,