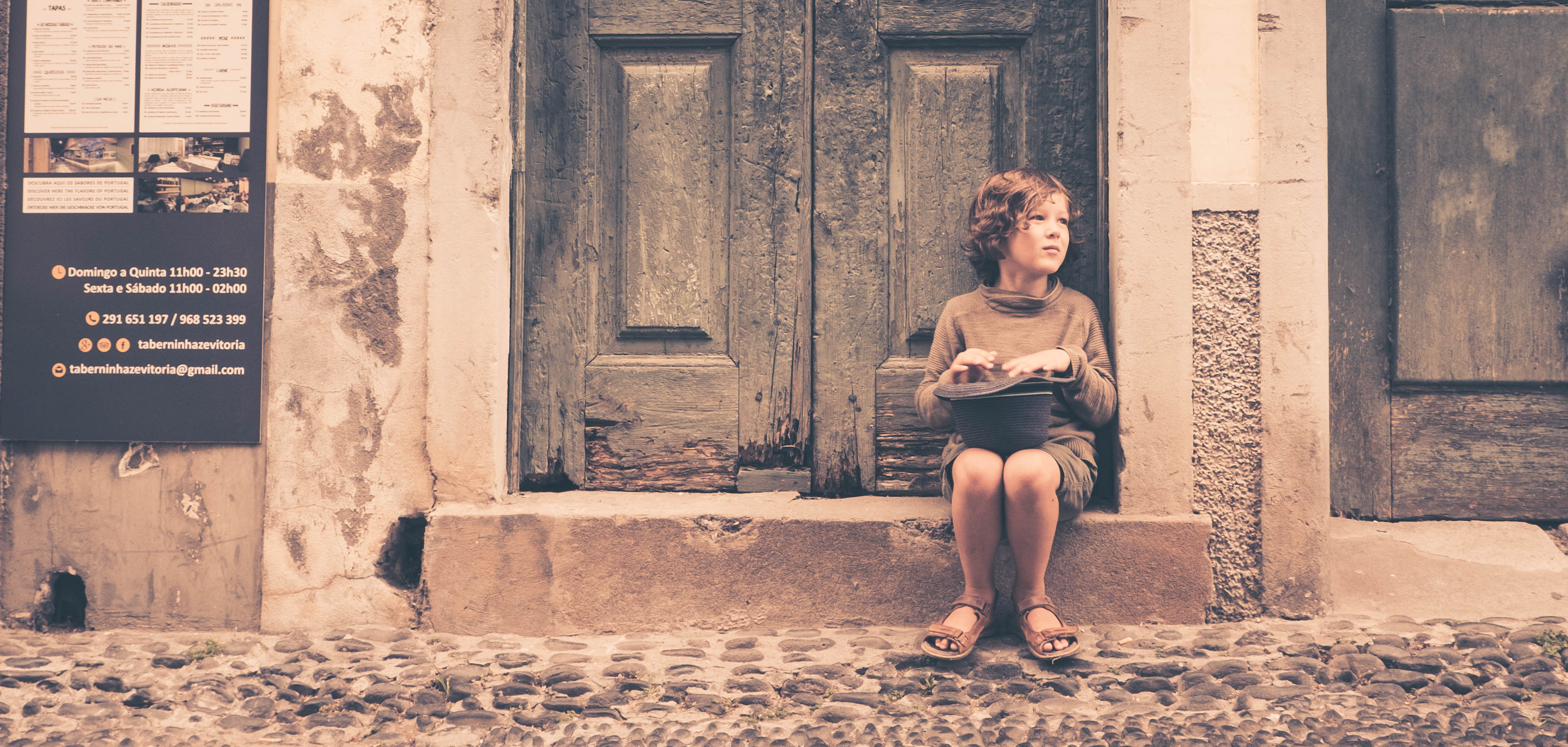 We hadden net onze vliegtuigtickets geboekt en een oogwenk later was er een reportage in Pano over vliegtuigen. Over hoe dit gemotoriseerd vervoer wel een heel erg grote impact heeft op het milieu. Een vliegreis belast ons moeder aarde vijf tot vijftien keer meer dan een reis met een bus of trein. Ik had nochtans net omwille van het idee dat ik dan milieubewuster was zonder bagage geboekt. Ik dacht dat het in mate van vervuiling hetzelfde was als je met een volle auto naar Portugal zou rijden. Fout. Volledig fout dus.
Dit jaar planten we 28 bomen in onze tuin. Ik hou mezelf voor dat dit telt als tegenprestatie voor onze vlucht. Ik weet het, jij weet het, dat die bomen er anders ook gingen komen. Maar alsjeblieft geen commentaar. Anders dreigt de mentale strijd met mezelf uit zijn voegen te barsten. Volgend jaar gaan we milieubewust op reis. Of niet op reis. Dat kan ook.
De gedachte om niet één keer per jaar te vliegen vind ik ook wel pijnlijk. We hebben een hele wereldbol vol elders die ik zo graag wil ontdekken. Ik vind het zo heerlijk om te kriskrassen op andere plaatsen, in andere culturen. Maar goed, dit gaat niet over mij, maar over een hele wereldbol waar we  allemaal beter zorg voor moeten dragen.
Dit jaar was het een eilandje bij Portugal, wie me goed kent weet ondertussen hoe verliefd ik op eilandjes ben. Het begrensde binnen het onbegrensde.  De zomersproetjes van de zee 🙂
Het was terug een reis met héél veel wandelingen.
Dramatisch ingestelde mensen zouden waarschijnlijk zeggen dat we slechte ouders zijn. Op deze foto hadden we een korte wandeling gepland. Uiteindelijk bleek mijn korte wandeling 14 km te duren doorheen gebergte (een slordige 5 uur). En ik ben dan ook zo'n onverdraagzaam type die geen berg kan beklimmen zonder de top te bereiken. Wat het alleen maar erger maakt is dat ik er ook steevast van overtuigd ben dat het echt niet meer ver is.
Omdat mijn mannen niet willen onderdoen voor "een meisje" gunnen ze me af en toe een momentje op de top.
Ik heb een hekel aan zwembaden (misschien teveel begrenzing binnen het begrensde ;-)) Zee of meerzwemmen daarentegen vind ik heerlijk. Zee-meer-zin.
Couleur  locale, zo'n marktjes wil ik ook wel bij ons thuis.
Op een avond waren we aan het wandelen doorheen een oud stadsdeel. Plots stonden we voor een oud, bouwvallig pand. Houten luikers waar de zon nog net doorheen kon vallen. Ik ben zo'n type dat heel graag in huizen binnen piept. Met mijn neus tegen het kleine stukje raam gedrukt zag ik een soort werkplaats, bijna zoals van  Gepetto. Of van de GVR.   Het leek alsof de tijd er was blijven stilstaan. Net toen we verder wilden lopen kwam er een oude man, met grote handen,  zijn armen gespreid, naar ons toe gelopen.
Even zag ik een potentiële zelfmoordterrorist en stapte met stevige tred verder. De man kwam ons achter na, deed teken dat we met hem mee moesten gaan. Blik op Jona: die vond het ok, dus ik ook :-).  We volgen de man met zijn grote handen. Hij loodste ons terug naar het pand, haalde een grote sleutel uit zijn broekzak, knipoogde en zei tegen mij "It seems that you caress things with your eyes"  en leidde ons binnen in een atelier. Een oude werkplaats waar de zon in al haar glorie en door de kieren heen zachtjes had neergestreken.  Het atelier was van hem en zijn zoon.  Beiden ukelele en gitaarbouwers. Ik verbaasde me over de ambacht, over de nauwkeurigheid waarmee bovenbladen werden glad geschuurd en vernist, over de verschillende mallen die hij met zorg had opgeborgen, over een nieuw instrument met twee halsen die hij lang geleden had gemaakt en die hij ooit graag wil vermarkten.
Hij sprak zo gepassioneerd over wat hij deed. En menslief, ik hou zo van de matelozen. Van mensen die met hart en ziel houden van wat ze doen. Hij speelde een liedje van Greg Laswell (alleen de keuze vond ik zo bijzonder) voor ons… Zijn blik omhelsde me opnieuw en ik deed alle moeite om het moment niet te verbreken. Zo puur en mooi.
We hadden een vrij diepzinnig gesprek. Over leven, waarden en normen, politiek en de wijze waarop je in het leven kan staan. Meestal kan ik me niet zo goed behelpen in het Engels… maar op de één of andere manier vloeide het…  Na een tijdje bleek dat zijn andere zoon als verpleger in Antwerpen werkt (hoe klein kan de wereld zijn),  hij vertelt ons over hoe mooi Brussel is en wat we er zeker nog moet bezoeken :-). Het MIM op één.
Iben moest al een hele tijd héél dringend plassen, zijn gezichtje vertelde dat hij echt "nu" moest plassen. Jona vertrok met Iben, we spraken af op een gemeenschappelijk punt.
Toen Rube en ik vertrokken kregen we een stevige handdruk en een knuffel. Hij keek me aan en vertelde me in wat voor "a wonderful, strange world" we leven. En dat we altijd de vrijheid hebben om het mooie te zien. Altijd. Hij kijkt me aan neemt mijn hand vast en zegt dat ik wanneer dan ook, op welk moment dan ook altijd welkom ben.  Rube en ik hebben te weinig handen om te wuiven wanneer we vertrekken. Rube eveneens onder de indruk van de magie van het moment ook al had hij het gesprek niet echt kunnen volgen.
Zowel Jona als ik hebben online deze man proberen terug te vinden. Het voelt aandoenlijk onvoltooid. Elke vezel in mijn lijf heeft het gevoel dat ik daar thuis kwam in mijn zoektocht naar harmonie en rust. Maar misschien is het ook weer eigen aan mijn melancholische zelf. Heb ik altijd een soort heimwee naar een plek van wat kon zijn en niet is geweest.
De woeste zee. Kermis der zintuigen.
Op sommige strandjes op het eiland heb je natuurdouches. Er is een soort zandachtig zwart zand dat  echt blijft plakken. Het is dan vaak ook noodzaak om even te douchen als je comfortabel in je kleren wil zitten. Op dit strandje stond de douche heel afgelegen en waren we er van overtuigd dat we buiten ieders gezichtsveld vertoefden. Net op het moment dat ik aan het douchen was, passeerde er net boven mijn hoofd parachutist die een paar meter verder landde. Ik vermoed dat die volledig verblind was door mijn witreflecterende billen (of hij wou mijn spuuglelijke paarse handdoek van dichtbij zien, dat kan natuurlijk ook). Manlief had de fijne reflex om dit ook even op de gevoelige plaat te zetten (jullie krijgen uiteraard de gecensureerde versie al zijn de echte beelden echt wel hilarisch 🙂 ).
Kraantjeswater, wie Rube kent weet dat op welke manier hij ook drinkt hij sowieso nat wordt. Dit bleek de droogste manier te zijn 🙂
Wolkenzee. Groot geluk onder onze voeten.
Vierhoog boven de wolken.
Ik heb nooit mijn echte fotocamera mee op reis (mijn milieubewuste handbagageregel…. Als er al een God bestaat dan vraag ik me af wat God daar allemaal moet van denken, dat ik zo heel vaak heel veel denkfouten maak) .
Ik heb wel zo'n piepklein compacttoestelletje bij me. Op momenten die filmisch het mooist zijn is het vaak hoofdzonde en gevloek dat ik mijn fototoestel niet voor handen heb. Van de mooiste momenten neem ik vaak geen foto's omdat ik weet dat ik het nooit zal kunnen vastleggen zoals ik het wil. Dit was zo'n momentje met mystiek licht. Het vreemde op dit eiland is dat er altijd een groot deel bewolking sluimert en plots, als uit het niets, er een streep zonlicht er door heen valt.
Ah, samen  met mijn kanjers op reis… Geluk is zweven onder en boven wolken. Vinden wat we allen zoeken. What a wonderful, strange world.
Liefs,
Ann-elise