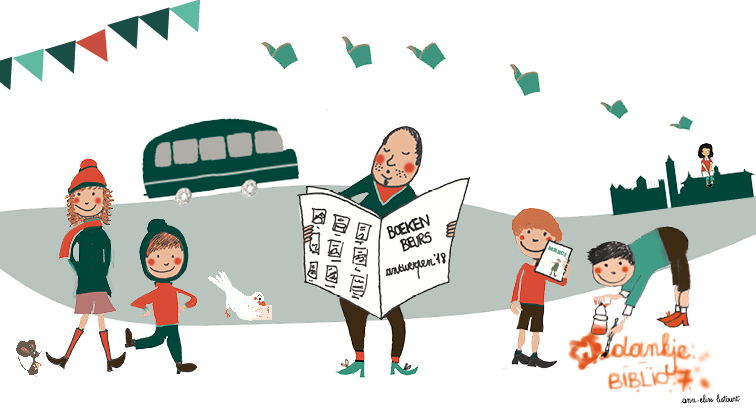 Nog voor ik kon lezen fantaseerde ikzelf al wat er zou kunnen staan. En vanaf het moment dat ik het systeem met die lettertjes snapte ben ik echt beginnen lezen. Mijn leesverslaving mondt vaak uit in een verzamelzucht.  Lang leve deze vorm van boekhouden!  Spontane vreugdesprongetjes als ik in de kring een sprookje van Oscar Wilde ontdek  of als ik op een rommelmarkt nog een versie van Oom Oswald op de kop kan tikken (vrienden/vriendinnen die ik heel graag zie kregen ondertussen elk hun eigen exemplaar cadeau).
Mijn 'inkomen' is helaas niet toereikend voor alle boeken die 'uitkomen' en dus ben ik zo ongelooflijk blij dat er iets als een bib bestaat.  Een bibliotheek is een wondere, magische plek! Je kunt er altijd terecht. Voor de lichtvoetige materie, wanneer je zin hebt om een beladen interview te lezen (ja, ik heb soms zin om een beladen interview te lezen), voor grappige boeken, voor serieuze naslagwerken, voor dvd's zowel ontroerend als humoristisch. Voor diepzinnige dichtbundels al of niet zonder nadruk.
Eén van mijn favoriete plekken dus voor troost, inzicht, lichtheid, diepgang, inspiratie, het opzuigen van kennis, … Ook één van de plekken waar ik even achteroverleun en mijn kroost loslaat opzoek naar hun favoriete boeken. Heerlijk als Rube dan komt aandraven met mijn één van mijn favoriete kinderboeken (die ik onder lichte dwang in zijn handen duwde, ze moeten de klassiekers leren kennen 😉 ).
Het was dan ook fantastisch heerlijk om dit jaar alle flyers voor Biblio 7 te mogen tekenen, kaftpapier vorm te geven en op deze manier twee van mijn favoriete werelden met elkaar te verbinden.
Dank je BIBLIO 7 / CO7 voor het vertrouwen!
En hup! Iedereen mee met de boekenbus naar de boekenbeurs! Het lijkt me hoopvol voor de toekomst als we massaal in boeken investeren!
Groetjes,
Ann-elise