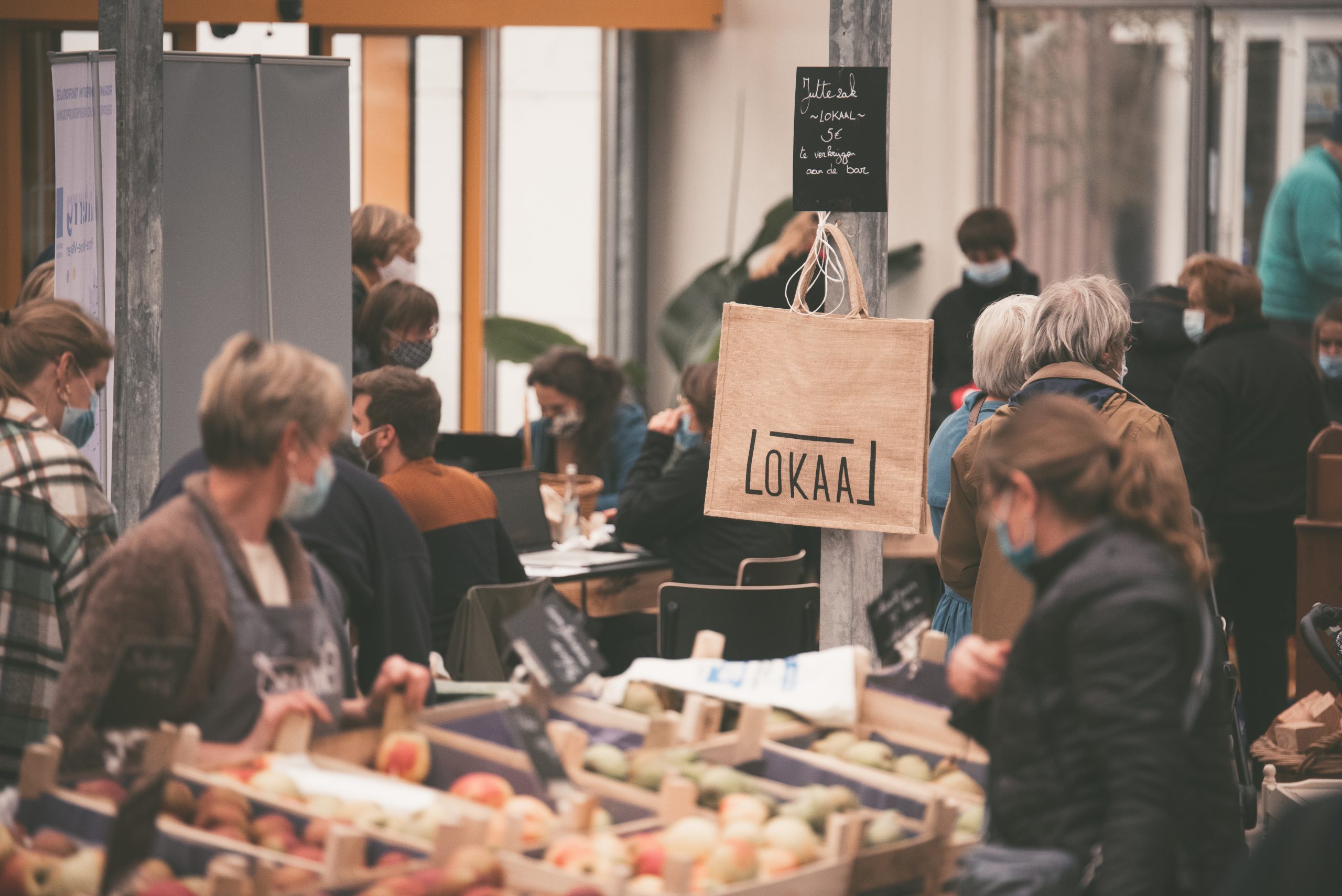 Half weg oktober. Een reportage voor de lokaalmarkt in 't Groenhuis. Eigenlijk een piepklein beetje een gelukkig-halfjaar-lokaalmarkt-ieper blog :-).
Weer zo'n reportage dat mijn chaotisch randje mij parten speelt. Het chaotisch kantje in mij is steeds dingen kwijt. Voor elke reportage stel ik mijn man steeds dezelfde vraag. Of hij soms weet waar mijn fototoestel, batterij, SD-kaartjes, gsm, sleutels of iets-anders-dat-ik-kwijt-ben zijn? Hij snapt niet waarom ik niet alles steeds op dezelfde plek leg. Ik eigenlijk ook niet echt, maar dat hoeft hij niet te weten. Als ik dan uiteindelijk alles vind (met hulp en aanwijzingen van heel het gezin) en mee gris gebeurt het ook met regelmaat dat er in al mijn onhandigheid iets door de lucht vliegt. Op deze dag kent mijn i-phone ongekende hoogtes. Ik weet dat minder meer is. Hij is minder waard maar heeft wel veel meer barstjes.
Maar goed, onderweg naar 't Groenhuis dus…
't Groenhuis is een initiatief van Dieter Valentin. Een plek waar er op lokaal niveau wordt bijgedragen tot deeloplossingen voor een betere, leukere en mooiere wereld. In de eerste plaats herbergt 't Groenhuis de Lokaalmarkt van Ieper. Hier bieden authentieke makers kwaliteitsvolle en verse voedingsproducten aan. Prinsheerlijke producten van a tot z, van (biologische) appels tot zuurdesembrood en alle producten met alle letters er tussen. Wanneer je langs gaat bij lokaalmarkt steun je de lokale economie, versterk je de korte keten, bescherm je daarmee ook een piepklein beetje ons klimaat, koop je hemelse producten én maak je kennis met de bezielers van de producten. Een win-win situatie tot de twaalfde macht.
In niet corona-tijden (of met ietwat andere maatregelen) kunnen kleine mensjes spelen in het kinderatelier (met een megaschone en met vakmanschap vervaardige inzitkast) en kun je zelf even neerstrijken in de bar en je laven met een overheerlijk streekbiertje (of koffie of iets anders dat kan en mag uiteraard ook).
Best wel een héél fijn concept. Ook voor mensen die niet houden van boodschappen doen. Bij lokaalmarkt vertoef je (in mijn bye bye corona-gedachte) in de mogelijkheid om vriend te worden met de vrouw/man aan het tafeltje naast je in de bar. Aan die nieuwe vriend vraag je dan beleefd of hij niet zo heel even iets voor jou wil meebrengen als hij zelf zijn boodschappen doet.. Weeral win-win. De ander vindt het fijn dat hij iets voor jou kan doen en de producenten kan ontmoeten en jij kan gewoon blijven zitten :-).
Verder laat Dieter 't Groenhuis ontvouwen tot een plek van verbinding. De serre kan afgehuurd worden voor feestlijkheden en heerlijkheden, de zolder ontpopt zich tot een gezellige coworkplek en ook de aanwezige bar wordt uitvalsplek voor café-optredentjes.
Een plekje groen Utopia in hartje Ieper :-).
*: voor de mag-dit-wel-met-corona-denkers: Ja hoor :-). alle foto's werden genomen in oktober, onder de toen geldende maatregelen. Foto's van producten werden genomen voor het openen van de lokaal markt en dus conform de maatregelen voor bedrijfsreportages.

Benieuwd naar meer?
https://www.facebook.com/GroenhuisIeper
https://www.facebook.com/lokaalmarktieper
https://www.lokaalmarkt.be/nl/markten/ieper
Ook interesse in een bedrijfsreportage?
https://ann-elise.be/fotografie/bedrijfsreportage.html